Site Lead: David Rogers, Idaho State University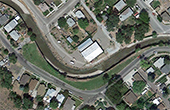 ECOSYSTEM ISSUE:
What are the tradeoffs between flood protection and the aesthetic, recreational and water quality services associated with the Portneuf river system in and near the mid-sized city of Pocatello, Idaho?
Research Significance
‌
Pocatello is a mid-sized city poised to expand along the length of the Portneuf River. Our research will inform community leaders and decision-makers how to develop ecosystem services in concert with urban expansion, in a way best suited to current community values. It will also provide a means of formulating discussion so that scientists, policy-makers, and the general public can effectively communicate.
Social & Environmental Context
Pocatello has a population of 85,000 with ~1% annual growth. Urban expansion upstream and into the foothills is replacing farming and grazing. The city has a Comprehensive Plan to emphasize healthy lifestyles, business growth, and outdoor recreation. Stakeholder groups include government, business, and community activist groups.
RESEARCH PROJECTS
History of River Management
Researchers: Kevin Marsh (Associate Professor); Josh Eppley (graduate student)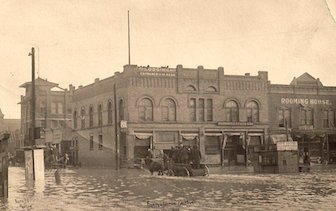 Downtown Pocatello, Flood of 1911 Researchers at ISU have compiled historical data and developed web tools aimed at helping the public and stakeholders understand the history and dynamics of the Portneuf River ecosystem. Their objective was to facilitate better public understanding of how the river has been managed in the past, in order to contribute to community involvement in deciding how the river should be managed in the future.
Among the web tools created is a digital timeline Pocatello Flooding History, created by ISU history professor Kevin Marsh and ISU history master's student Josh Eppley, that documents the construction of the Portneuf River cement channel and levies built in Pocatello. The evolution of Portneuf's management is summarized through pictures and explanations about local politics, federal government actions, and background about the law.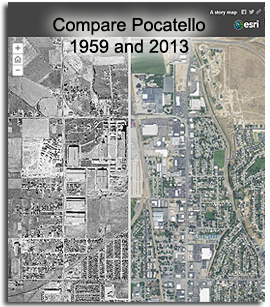 Compare Pocatello 1959 and 2013Another web tool, Compare Pocatello 1959 and 2013, compares a 1959 aerial image of Pocatello to a 2013 aerial image, demonstrating how the Portneuf River channel was changed by activities in the 1960s. This visualization was prepared by ISU geosciences professor Donna Delparte and geosciences graduate student W. Joel Johansen.
In summary, these tools have been created to be used by the public and stakeholders, such as the City of Pocatello and groups like the Portneuf Watershed Partnership, which is a coalition of stakeholders seeking to improve surface and ground water resources in the greater Portneuf Watershed through partnership, outreach, research, monitoring and restoration activities.
Portneuf Restoration Stakeholder Survey
Researchers: Donna Lybecker (Professor); Mark McBeth (Professor)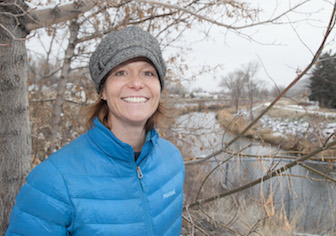 ISU political science professor Donna LybeckerResearchers in the ISU political science and sociology departments conducted a survey to see if people in Pocatello believed their community would benefit from a restored Portneuf River. They received 90 responses to surveys sent out to about 150 people. The people responding were comprised, about equally, from three major groups: 1) government officials and scientists; 2) environmentalists; and 3) business people.
Ninety-five percent of stakeholders responded that they believe their community would benefit from a restored Portneuf River. Many feel the river is not being utilized fully for recreational and aesthetic purposes, and most stakeholders believe that the river hurts the image of the city. They recognize the need for flood control, but want to make the river a larger, beneficial part of the community.
Three features of the river were most important to shareholders, with 96 percent choosing a healthy ecosystem, 93 percent choosing a place to walk and run and 92 percent choosing habitat for birds and wildlife.
Read more about the Portneuf restoration stakeholder survey.
Gibson Jack Creek study
Researchers: Sarah Godsey (Assistant Professor); John Whiting (graduate student); Dylan Refaey (graduate student)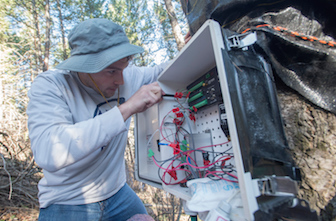 Transpiration monitoring in the Gibson Jack watershed (WATCH VIDEO)Researchers are studying plant transpiration rates in the Portneuf watershed and evaluating how these rates relate to stream flow and water quality, focusing in particular on Douglas Fir trees in the Gibson Jack Research Natural Area. Transpiration by plants has important implications for the overall water balance within the watershed. About two-thirds of water from either rain or snow is usually lost to the atmosphere from evaporation or through the transpiration of plants, with the rest flowing into streams. From a water management perspective, it is important to take into consideration the water losses by plants, and how that might change with variations in climate and weather.
For this project, trees are instrumented with sap-flow sensors crafted by ISU researchers, while an array of additional sensors are placed around the site to measure soil moisture, temperature, relative humidity and photosynthetically-activate radiation (how much sunlight is available for trees to use).
MURI highlight: Former ISU undergraduate and MURI intern Dylan Refaey constructed the sap-flow sensors used in this project. As a result of his MURI experience, Refaey decided to continue his education and pursue a master's degree with Dr. Godsey.