Site Lead: John Anderson, University of Idaho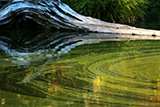 ECOSYSTEM ISSUE:
The socio-economic wellbeing of the CDA area is dependent on maintenance of high-value, lake-based recreation ecosystem services. However, urban and exurban growth are increasing vulnerability of recreational activities to algal blooms, cyanobacteria outbreaks, and mobilization of metals. What is the sensitivity of the CDA SES to changes in lake trophic status?
In the Coeur d'Alene (CDA) system, as in many other lake systems located near urban centers, society is not directly dependent on the lake system for food provision, direct water supply, or other lake resources. Rather, the community is indirectly connected to the lake as a source of recreational/aesthetic enjoyment and added economic value to property.
Eutrophication—the enrichment of an ecosystem with chemical nutrients (e.g., phosphorous, nitrogen)—is the most common impairment of lake ecosystems. Eutrophication reduces water clarity, promotes large algae masses, and increases density and distribution of native and invasive aquatic plants.
Researchers are investigating the causes and extent of nutrient loading in lakes surrounding CDA (Fernan Lake, Lake Coeur d'Alene). They seek to develop an integrated model of the social and ecological relationships and their sensitivity to changes within the system.
In the larger CDA area, researchers are also using models to determine if water quality and clarity have an effect on waterfront property values (to learn more, see this poster and this journal article).
Fernan Lake
The following links, documents and videos describe research on the Fernan Lake watershed.
Site Selection: The Fernan Lake watershed is the initial focus of research in the CDA area. Fernan Lake is a relatively small, shallow lake near CDA that is popular for boating, fishing, and swimming. Because of excess nutrients such as phosphorus in the water, Fernan Lake is susceptible to annual blue-green algal blooms. In addition to ruining the aesthetics of Fernan, these blooms impair the lake's designated recreational uses. Some species of blue-green algae found in Fernan produce toxins capable of causing skin irritation or illness to humans and illness or even death to pets and wildlife.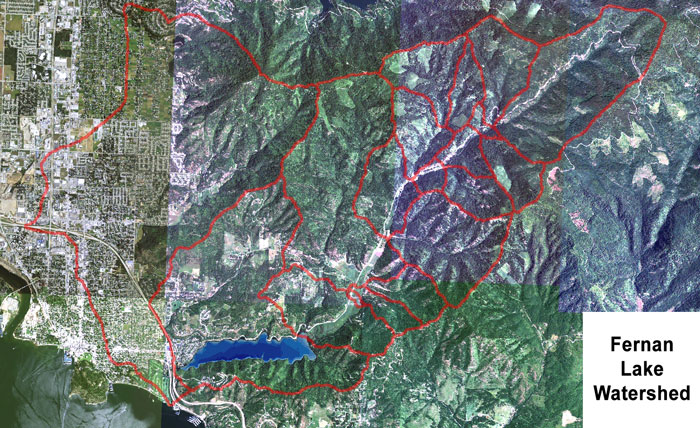 Fernan Lake Watershed
3-D Fernan Lake (currently unavailable)  
‌ISEED
Kevin Henry, Univ of Idaho
This 3-D visualization of Fernan Lake Village, Idaho and surrounding area demonstrates the capabilities of ESRI's CityEngine for use in SES research and communication. Analysis products such as wildfire severity and lake sensitivity analyses can be viewed in conjunction with infrastructure and development derived from existing GIS data.
NOTE: This application requires the Unity Web Player plugin and considerable bandwidth to run. May not work with Internet Explorer -- please try Firefox or Chrome.
Rather than stream the application through your web browser, you may download the Latest Stand-Alone Virtualization (.zip files) to your desktop. 32-bit Windows build (121MB), 64-bit Windows build (122MB)