Site Lead: Shawn Benner, Boise State University
Stakeholder Coordinator: Eric Lindquist, Boise State University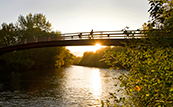 ECOSYSTEM ISSUE:
Water resources in the face of a urban development and changing climate. How will water availability and water use change as the Treasure Valley population continues to grow?
Researchers in the Boise-Treasure Valley seek to identify and track the changes to Idaho's ecological systems brought about by urban development and/or decline. Their focus is on answering the question of how water availability and water use will change in the future as the Treasure Valley population grows. This project is expected to grow to include areas of research that relate to water quality, wildfires, and recreation. Learn about BSU's Human-Environment Systems Initiative.
The ultimate outcome is to build a modeling framework that will allow researchers and stakeholders to identify potential changes to the landscapes and ecology of the Treasure Valley. These models will serve to inform stakeholders and policy makers during critical decision making processes concerning Idaho's natural resources.
RESEARCH PROJECTS
Alternative Futures Modeling to Predict Water Availability in the Treasure Valley
Resolving Human-Wildlife Conflict
Characterizing Drivers of Urban Growth in the Treasure Valley
Agricultural Decisions and Future Water Use in the Treasure Valley
Developing a Framework for Stakeholder Characterization